Here are some of the cats and bunnies who found their forever homes in February: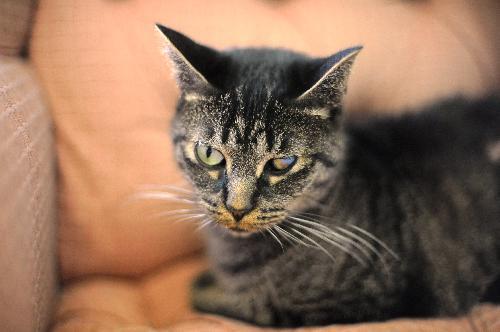 Venetia
Venetia
was found in some pretty rough shape. She had were patches of fur missing from her back, scabs all over her body, a small hard nodule just beneath her skin on her shoulder (later found to be a BB pellet), and a damaged left eye. Now she sleeps in her new momma's bed and greets their 5 year-old with headbutts every morning!
Popeye
Highway
Popeye made a love connection on Valentines Day with a family who originally came in looking for a rabbit! This charmer managed to change their minds.
(Hint hint - he gets along GREAT with bunnies....)
Little Highway was just a baby when he was found dumped on Dempster Street in Skokie, with a bad case of coccidia. With time, loving care, and proper treatment he recovered, got his neuter, and now has a home of his own.
Swatch
Rolex
Swatch and Rolex have been Red Door buns from birth! (Their mother Blossom was pregnant when she was rescued) They have great homes now, but their brother
Poke Chop
will be ready for adoption soon.
Mr. Peppermint got to spend some quality time with Toni before finding his forever home. Now this cuddly big boy is named Louie and he loves to tooth-purr for his new people.
Sir Paul was adopted by a single mom, and is really enjoying having the space to run and binky! He's still a bit shy of his new people, but they are being patient with him and he should settle in just fine.
Congratulations to our latest Red Door Alumni!